10 Healthy Foods To Help Keep Your Weight Down And Your Health Up
Healthy weight loss includes healthy foods. You'll do well, when planning  your healthy diet , if you keep in mind that limiting calorie intake in itself is not enough to ensure good and healthy results.
A good diet should make the most of every calorie by packing in nutrients and other benefits.
The following list will show you which foods are packed with nutrition and why they should definitely be included in your daily healthy diet menu.
Ten Healthiest Foods
#1 Wild salmon
Nutrition experts agree that salmon is one of the most healthful foods you can eat.
It contains low amounts of saturated fats and high amounts of protein.
It also has those famous omega-3 oils which help prevent heart disease and cholesterol.
Make sure it's wild salmon because farmed salmon has significantly less nutritional value than wild salmon.
#2 Spinach
For variety you may want to substitute kale or collard greens.
The key is for you not to leave these wonderful leafy greens out of your diet.
Spinach is one the ten healthiest foods because it has a high vitamin content and lots of fiber. It has virtually no fat and it is said to be  beneficial for reducing inflammation.
#3 Nuts
Tree nuts including walnuts and almonds contain good fats, protein and lots of fiber.
One of the wonderful benefits of eating  nuts is that they keep you feeling full and thus reducing food cravings which may lead to overeating and poor food choices.
#4 Tomatoes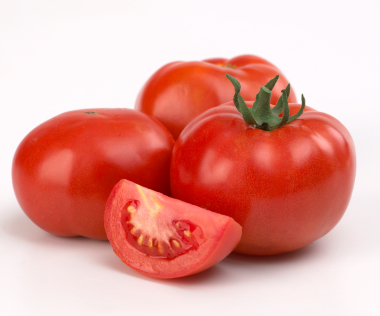 Tomatoes and any brightly colored vegetables are your friends because they contain phytonutrients and anti-oxidants.
Tomatoes also contain lycopene which is believed to help prevent cancer.
#5 Blueberries
Blueberries contain powerful antioxidants.
They tend to be connected with the brain and memory too in some circles.
In any case they are healthy and beneficial, delicious and low in calories. They make a wonderful treat.
The rest of the items on the list of the 10 healthiest foods are:
#6 Beans
#7 Tofu
#8 Lamb
#9 Oat Meal
#10 Apples
Yes, the apple is one of the 10 healthiest foods. Didn't your grandmother tell you so? She was right just as she was when she urged you to eat your veggies.
No list can be complete and exhaustive. You can add many similar items to it that are closely related.
All of these 10 healthiest foods contain very limited amounts fat.
They are high in crucial nutrients that will help you fight off disease and keep your body in  healthy shape. Remember that eating less is not enough.
To lose weight and to be healthy you need to eat right. Make your food work for you with the 10 healthy weight loss foods.